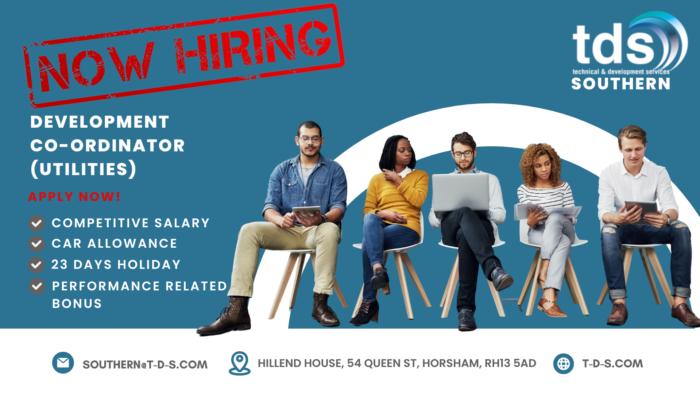 FULL TIME
Are you ready to significantly impact the world of Development Utilities? We are currently seeking a highly motivated and dynamic Development Coordinator to join our Utilities engineering team. If you're passionate about providing top-notch service to clients and enjoy working in a fast-paced environment, this opportunity is for you!
Job Purpose
At Technical & Development Services (Southern) Ltd, we are dedicated to delivering exceptional utility solutions to our clients. As a key player in the industry, we work on exciting new developments and provide support to our Developer and House Builder clients, throughout the entire process. Our team is driven by a commitment to excellence and a desire to make a positive difference in the communities we serve.As a Development Coordinator, you will be an integral part of our team, assisting in the procurement and management of utility functions on behalf of our external clients. You'll play a vital role in supporting our Directors and fellow Development Engineers, ensuring the seamless delivery of Utilities for new and existing developments.
Key Accountabilities
In this role, your responsibilities will include:
Collaborating with the Directors and Development Engineers, providing valuable support in their daily duties. 
· Managing and progressing client enquiries related to utility provision and management on new developments. 
· Ensuring timely delivery of utilities and handling post-development issues on behalf of our valued clients. 
· Identifying utility costs for both new and historic developments, seeking opportunities to challenge any unreasonable charges. 
· Delivering exceptional service to our clients, securing the best value for their utility needs.
Key Tasks
Your day-to-day tasks will involve:
Assisting with various TDS enquiries, including utility design, to meet client requirements.
Establishing strong communication with Utilities Companies for new mains and services applications.
Coordinating enquiries for the diversion and disconnection of existing mains and services, ensuring smooth development progress.
Liaising with site contacts, clients, and utilities companies to meet prescribed timescales for utility provision on new developments.
Providing regular and clear progress reports to our clients, aligning with the TDS progress tracker format.
Attending Design Team Meetings and site meetings as outlined in the detailed Fee Proposal.
Prioritizing safety by remaining informed and compliant with RAMS regulations and relevant Health & Safety advice.
Here at TDS Southern Ltd, we value our employees and offer a competitive package commensurate with experience. Benefits include:
What We Offer
Competitive Salary: We appreciate the need to recognise the contribution our staff make to the success of the business and pay them accordingly.
Performance-related Bonus: We understand the importance of motivating and rewarding our key members of staff for going above and beyond.
Car Allowance: We understand the importance of mobility, and we want to support your travel needs.
23 Days Holiday: A healthy work-life balance is essential, and we encourage our team to take time off to recharge and rejuvenate.
Company Pension: Secure your future with our attractive NEST company pension plan.
Your Skills
To excel in this role, you should have:
A strong passion for providing outstanding client service and solving challenges creatively.
Excellent organizational and communication skills to collaborate effectively with diverse teams.
An eye for detail and the ability to spot and challenge unreasonable charges.
Knowledge of utility procurement processes and experience in a similar role will be extremely advantageous.
Join us on this rewarding journey as a Development Coordinator. Make your mark in an industry that shapes the future of communities and their infrastructure. If you are ready to take the next step in your career, we invite you to apply now.
Don't miss this opportunity to become an essential part of our team. Apply today and be part of our vision to deliver first-class utility management solutions! Apply now.