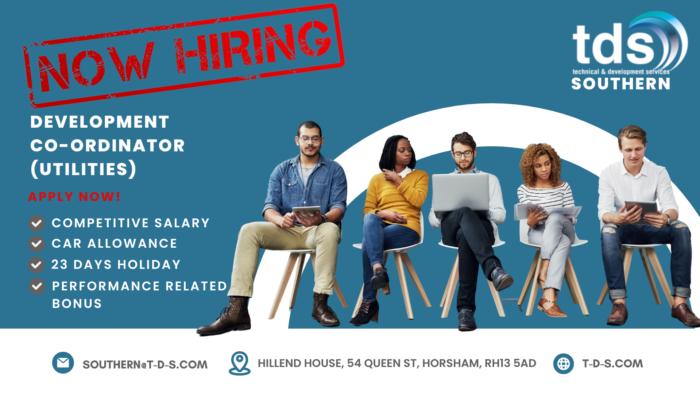 FULL TIME
Join Our Team as a Utilities Coordinator at TDS Northern
Are you ready to step into a role that offers growth, learning, and a chance to be part of an exceptional team? As we expand our client base, an exciting opportunity awaits you as a Utilities Coordinator at Technical & Development Services North.
Why Choose Us?
Dynamic Growth: Be a crucial part of our expansion journey, where your contributions truly make an impact.
Learning Culture: Receive comprehensive training and guidance as we equip you with the tools for success.
Team Empowerment: Join a team that values initiative, fosters collaboration, and thrives on achieving together.
Key Role: Play a pivotal role in the development process, ensuring our clients' needs are met seamlessly.
Your Role and Responsibilities
Analyse & Strategise: Review clients' construction project details, applying for utility records and assessing development impacts.
Technical Expertise: Coordinate utility works, manage disconnections and diversions, and secure competitive multi-utility quotations.
Crucial Link: Bridge between clients and solutions, ensuring projects align with time, cost, and quality expectations.
Sharp Analysis: Perform comprehensive tender reviews, providing clients with informed solutions.
Effective Communication: Engage with clients through face-to-face meetings, phone calls, and emails to offer updates and advice.
Client Relationships: Contribute to maintaining strong client relationships, a cornerstone of our consultancy's success.
What We Offer
Competitive Salary: We appreciate the need to recognise the contribution our staff make to the success of the business and pay them accordingly.
Performance-related Bonus: We understand the importance of motivating and rewarding our key members of staff for going above and beyond.
Car Allowance: We understand the importance of mobility, and we want to support your travel needs.
23 Days Holiday: A healthy work-life balance is essential, and we encourage our team to take time off to recharge and rejuvenate.
Company Pension: Secure your future with our attractive NEST company pension plan.
Your Profile
Detail-Oriented: Demonstrate an eye for detail, delivering accurate results in a fast-paced environment.

Initiative-Driven: Showcase your proactive approach and willingness to go the extra mile.

Deadline-Focused: Thrive under pressure and meet critical project milestones with ease.

Client-Centric: Prioritize client satisfaction and excel in face-to-face and digital communication.

Problem Solver: Exhibit sharp analytical skills and offer innovative solutions to complex challenges.
You will be joining a team that values excellence, innovation, and impactful work. Your contributions will make a difference, shaping the future of our consultancy and the communities we serve.
Apply Now and embark on a journey with TDS Northern that promises growth, challenge, and the chance to leave your mark.
Don't miss this opportunity to be part of a dynamic team that makes a real impact. Join TDS Northern and shape the future of development. Apply now to take the first step toward an exciting career!